Friday, January 30, 2009
THIS IS THE SCHEMATIC OF THE GAIN STAGE. IT WAS INFLUENCED FROM RAY WILSON'S RINGMOD MODULAR DESIGN.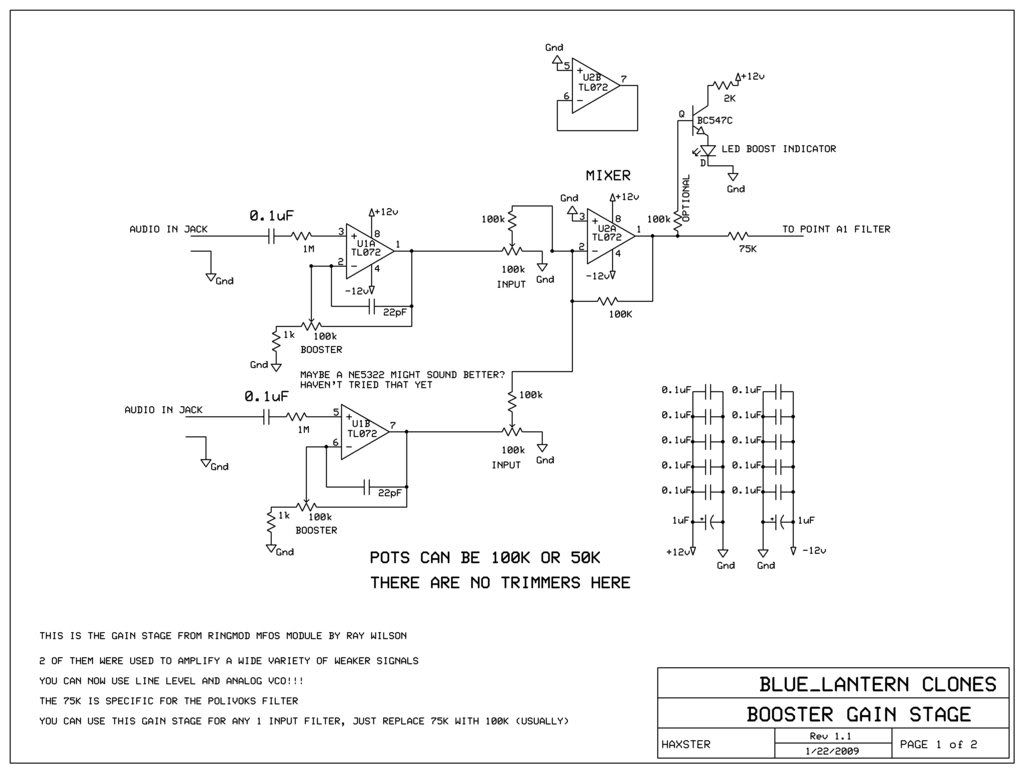 Posted by

Red Lantern
at 9:56 AM
No comments:

Thursday, January 1, 2009
HERE IS THE NOTES FOR BUILDING THE VCF YOURSELF.
THE ENTIRE CIRCUIT CAN BE BUILT JUST BY PLACING WHAT YOU SEE OFF THE PCB.
YOU WILL NOT HAVE TO REALLY LOOK AT A SCHEMATIC OR READ PARTLIST VALUES LIKE R12,R13...
I BUILD THESE JUST BY LOOKING AT THE PCB. IF YOU ARE USED TO BUILDING STUFF YOURSELF THIS IS NOT HARD AT ALL TO BUILD. 2-3 HOURS IS THE AVERAGE BUILD TIME FOR EXPERIENCED BUILDERS.
*************************************************************************************
PARTLIST
-----------------------------------------------------------------------------
RESISTORS
****************
1K (11)
100K (18)
470K (2)
10K (7)
75K (1)
150K (1)
470R (2)
6K9 (1)
200K (3)
220K (1)
270K (1)
27K (1)
2K (5)
43K (2)
47K (2)
1M (6)
2M (1)

CAPACITORS
****************
0.1UF (14)
0.01UF (1)
22PF (2)
100PF (1)
10PF (1)
0.0047UF (1)
1UF ELECTRO (4)

1UF NON-POLAR (3)

DIODES
****************
1N4148 (2)

TRANSISTORS
****************
(4) BC547 NPN
(1) 2N2222A for actual CV of filter
(1) NPN TRANSISTOR (2N3904, ETC) FOR NOISE GENERATOR


TRIMMERS
****************
(1) 10K TRIMMER FLAT
(1) 100K TRIMMER FLAT OR VERTICAL


IC
****************
(4) TLO72
(2) LM4250
(2) TL074

IC SOCKETS
****************
(6) 8 PIN
(2) 14 PIN

POTS
****************
(11) 100K-50K POTS (YOUR WAY) OR MOUSER PART #317-2201F-50K (FOR MY WAY)

KNOBS
****************
(11) D-SHAFT KNOBS MOUSER PART #450-4663 (MY WAY)
OR KNOBS OF YOUR STYLE IF YOU ARE DOING IT YOUR WAY.

LEDS
****************
(5) T1 3MM IF YOU PLAN TO DO IT MY STYLE(MY WAY).
OR IT CAN BE ANY SIZE IF YOU ARE GOING TO MOUNT IT YOUR WAY.
THESE ARE OPTIONAL/THIS IS JUST DECORE. CIRCUIT WILL STILL WORK WITHOUT THESE.


MECHANICAL
****************
(10) SPDT SWITCHES OR (MY WAY)SLIDE SWITCH(WHITE SLIDE SWITCH http://www.goldmine-elec.com/ PART#G13372(A))
(7) PHONO JACKS (MYWAY) OR JUST GOOD DEAL (YOUR WAY)(WWW.ALLELECTRONICS.COM) PART# CAT# PHJ-8

IF YOU WANT TO USE FANCY CONNECTORS FOR YOUR JACKS OR AC PLUG GET THEM AT WWW.ALLELECTRONICS.COM
PART# CAT# CON-242 (2 PIN)
PART# CAT# CON-243 (3 PIN)

SELF POWER OPTION
****************
2200UF ELECTRO 2
1N4004 6
7812 POSITIVE REGULATOR 1
7912 NEGATIVE REGULATOR 1
(1) 12V AC WALL ADAPTER
(1) 2.1MM OR 2.5MM POWER JACK (THIS MUST MATCH THE POWERSUPPLY YOU CHOOSE)
NOTE: IT IS POSSIBLE TO USE 15V REGULATORS AND SELF POWER IT AT +/-15V, YOU WOULD NEED 16V AND ABOVE AC ADAPTER.
YOU SHOULD NOT NEED ANY TWEAK ON THE PARTS. THE CUTOFF OFFSET TRIMMER SHOULD FIX THE DIFFERENCE IN VOLTAGE.


BUILD INSTRUCTIONS
---------------------------------------------------------------------------------------------------------------
IF YOU ARE GOING TO BUILD IT (MY WAY) THEN LISTEN CLOSELY AND FOLLOW THIS.
IF YOU ARE GOING TO MOUNT IT AND RUN WIRES OF THE PCB THEN SKIP TO THE BOTTOM (YOUR WAY).

NOTES FOR BUILDING IT ALL IN ONE MY WAY.
(MY WAY) IS A BIT HARDER AND REQUIRES A PANEL TRACE/TEMPLATE. IT IS NOT RECOMMENDED FOR PANEL MOUNTING MODULAR STYLE BECAUSE IT EATS UP SPACE.

*******READ THIS FIRST*************************DO THIS OR BE SORRY.
BEFORE YOU BEGIN, YOU CAN TRACE/MEASURE THE PCB POTS AND SLIDER LOCATIONS ON THE WHITE SILKSCREEN SIDE AND MAKE A TEMPLATE FOR YOU TO DRILL YOURSELF LATER. THIS TEMPLATE WILL BE MIRRORED/REVERSED (HORIZONTAL) (REMEMBER THAT, DON'T BLAME ME). THE PHONO JACKS ARE 0.9" INCHES APART FROM ONE ANOTHER-THE ACTUAL HEIGHT OF THE JACK IS NOT KNOWN, I JUST USE A 2 INCH HIGH LEXAN STRIP AND TRACE THE JACKS AFTER I AM ALL DONE, YOU CAN DO THIS TO AND RECORD THE HEIGHT IF YOU PLAN ON GETTING FANCY AND ORDERING ALUMINUM PANELS.

THE DRILL WHOLE SIZE FOR THE WHITE SLIDER SWITCH AND MOUSER KNOBS IS 3/8", THE JACKS USE A 1/2" DRILL HOLE. I USE LEXAN AS PANELS FOR THIS. PLEXIGLASS IS NOT RECOMMENDED AND CHIPS EASY WHEN DRILLING.
IF YOUR GOING TO MAKE ALUMINUM LASER CUT PANELS THE SLIDE SWITCH HOLE CAN BE RECTANGULAR OBVIOUSLY. THE UP AND DOWN CLEARANCE IS 3/8" THE WIDTH YOU HAVE TO MEASURE.
-----------------------------------------------------------------------------------------------------------------

STEP 1: SOLDER THE TRANSITORS FIRST, MAKE SURE YOU HAVE THE RIGHT ORIENTATION IF YOU ARE SUBSTITUTING. THE GRAPHICS
ON THE PCB MATCH "BC" SERIES TRANSISTORS, 2N.. TYPE HAVE A DIFFERENT PINNING, DOWNLOAD DATASHEETS AND MAKE SURE FIRST.
IF AT THE END THE FILTER DOES NOT WANT TO WORK OR LIGHTS DON'T DO ACTION THIS IS WHY. 80% OF TROUBLESHOOTING WILL MOST LIKELY BE THIS. THE BIG CIRCLE RIGHT ON "QUACK" POT IS A TRANSISTOR SOCKET PLACE AND OPTIONAL, IGNORE THAT.

STEP 2: SOLDER THE RESISTORS,DIODES, AC DIODES, AND CAPACITORS. BUT NOT THE BIG (2) 2200UF CAPACITORS. TRY TO CLIP OFF AND HAVE NICE SHORT ENDS AFTER SOLDERING. ESPECIALLY EVERYTHING ONTOP OF THE POT AREAS. THERE IS ENOUGH CLEARANCE WITH THE MOUSER(ALPHA) POT WHEN DONE CORRECT.

STEP 3: SOLDER THE TRIMMERS ON THE PCB. YOU SHOULD ONLY HAVE 2 TRIMMERS. (1) IS A FLAT 10K, AND THE OTHER IS EITHER A 100K-50K VERTICAL OR FLAT TRIMMER. THOSE OPTIONS ARE LOCATED ON THE LEFT SIDE OF THE PCB.

STEP 4: SOLDER 3mm LED'S ON THE OPPOSITE SIDE OF THE PCB, THE SIDE THAT HAS THE GREEN WORDS LIKE QUACK/GAIN, ETC.

STEP 5: SOLDER IC SOCKETS OR IF YOU HAVE EXPERIENCE, RAW IC'S RIGHT ON THE PCB. THE WHITE ARROWS(GRAPHICS) TELL YOU WHICH DIRECTION THE CHIP GOES.

STEP 6: HARD PART, SOLDER ON THE MOUSER(ALPHA) POTS-THESE GO ON THE OPPOSITE SIDE WITH THE GREEN WORDS LIKE "QUACK". THE WHITE LINES THAT LOOK LIKE BEAR CLAWS ARE THE ACTUAL POINTS THAT ARE USED(SOLDER THEM ALL INDIVIDUALLY TO ADD GOOD GRABBING SUPPORT), DON'T PUT TO MUCH SOLDER AND ACCIDENTLY MAKE SOLDER SHORTS ACROSS THE PINS. I USE A SCREW DRIVER TO BEND THE (2) SIDE SUPPORT FLAPS TO GRAB AND HOLD THE POT ONTO THE PCB. USE A SOLDER SUCKER IF YOU ACCIDENTLY PUT TO MUCH SOLDER AND SHORTED PINS. TAKE YOUR TIME.

STEP 7: SOLDER ON THE WHITE SLIDE SWITCHES ON THE OPPOSITE SIDE (QUACK SIDE)

STEP 8: SOLDER ON THE REGULATORS AND BIG CAPACITORS. THEN PLACE THE PHONO JACKS ON THE WHITE GRAPHICS SIDE SO THAT YOU COVER THE WORDS "HOT","GND", AND THE ARROW. IF YOU ARE COVERING THE GREEN WORDS(SQ OUT..), YOUR ON THE WRONG SIDE BUDDY. SOLDER THEM ON.

STEP 9: SOLDER 2 WIRES OR A 2 PIN CONNECTOR TO YOUR POWER JACK YOU PICKED OUT. THIS GOES WHERE IT SAYS "12V AC" AND HAS A WHITE RECTANGLE.

YOU HAVE PUT TOGETHER A POLIVOKS CLONE! NOW TO TEST. DON'T PU ON ANY IC'S IN THE SOCKETS, IF YOU SOLDERED THEM ON WELL I WISH YOU LUCK.

TEST 1: DON'T POWER UP YET!!!!!! USE A VOLT METER AND CHECK FOR POWER SHORTS, USE THE POINTS NEAR THE POWER SWITCH, MASTER KNOB AND TL074 CHIP. IT IS LABELD (-)(G)(+), USE OHMS SETTING 200K ON A VOLT METER AND CHECK FOR SHORTS ON THOSE 3 POINTS-LIKE THIS CHECK: (+)(-), (+)(G), (-)(G). YOU WILL GET RESISTANCE WHICH IS GOOD. IF IT IS NOT READING 0.000 YOUR GOOD. IF IT IS 0.000 REVIEW YOUR WORK AND YOU MUST FIND THE GOOF UP. IF YOU POWER UP LIKE THAT (0.000) YOU WILL FRY STUFF.

TEST 2: NOW PLACE THE PCB ON A WOOD OR PLASTIC TABLE, CONNECT YOUR AC PLUG AND POWER UP FOR A QUICK SECOND, REVIEW THAT THE POWER LED HAS TURNED ON. IF IT DID NOT TURN ON, MAYBE YOU HAVE A BAD AC PLUG? OR LED WAS PUT ON WRONG.

TEST 3: TURN IT ON AGAIN AND WAIT AND SEE IF THE POWER LED DIES OR DIMS. IF YOU GOT A SOLID GOOD STEADY LITE YOUR GOOD. NOW MEASURE THE VOLTAGE AT THE 3 POINTS (+)(G)(-). YOU SHOULG GET -11.9,+11.7 OR VERY CLOSE TO +/-12. IF YOUR NEGATIVE VOLTAGE IS -14 OR SOMETHING MAYBE THERE IS NO LOAD. TRY THIS: TURN IT OFF PLACE A TL072 IN THE SOCKET, TURN IT ON AND MEASURE THE VOLTAGE. NOW YOU SHOULD GET -11.9,+11.7. IF YOUR GETTING VERY CLOSE TO =/+12V YOUR GOOD. TOUCH THE REGULATORS AND THEY SHOULD BE COOL, A LITTLE WARM BUT NOT HOT WHERE YOU CAN'T HOLD IT FOR LONG. YOU SHOULD NOT NEED HEATSHINKS FOR THIS PROJECT. IF IT IS HEATING UP, CHECK YOUR AC ADAPTER AC VOLTAGE, IT SHOULD BE 12-13V AC.

TEST 4: WITH IT OFF, PLACE IN ALL THE IC'S, MAKE SURE YOU PLACE THEM IN THE CORRECT DIRECTION-USE THE ARROWS TO GUIDE YOU. TURN IT ON AND WATCH FOR SMOKE FOR ABOUT A FEW MINUTES. YOU SHOULD NOT GET SMOKE IN THIS STAGE-YOU PLACED THE IC WRONG OR THERE IS SHORT SOMEWHERE. YOU SHOULD SEE THE LFO LITE BLINKING AT THIS STAGE. THE NOISE LITE SHOULD BE SOMEWHAT ON ALSO. THE INPUT LED MIGHT BE ON IF THE POTS ARE ALL THE WAY UP ON THE PRE-AMP (SMALL FEEDBACK). THE FM LED ONLY TURNS ON WHEN AN EXTERNAL CV SIGNAL IS INPUTED ON THE FM JACK.

TEST 5: USE THE NOISE GENERATOR OR YOUR OWN SIGNAL TO TEST THE FILTER. THERE IS A BIG CHANCE YOU WILL HEAR NO SOUND. YOU HAVE TO TURN THE 100K-50K TRIMMER TO GET THE CUTOFF KNOB TO SWEEP CORRECTLY-AND YOU HAVE TO HAVE THE INPUT KNOB UP. TEST THE LFO BY INCREASING THE MOD KNOB. NOTE: THE NOISE GENERATOR WILL ONLY WORK WHEN NOTHING IS PLUGGED IN Ain(1) AND THE NOISE SWITCH IS DOWN. IF YOU NEED CONSTANT NOISE AND HAVE TO USE THE AIN FOR OTHER SIGNALS, THERE ARE (2) POINTS YOU CAN ADD MORE PHONO JACKS TO TAP OUT THE NOISE SIGNALS. THEY ARE LABELED HPW, WN.
----------------------------------------------------------------------------------------------------------------------

NOTES FOR BUILDING IT DIY AND YOUR WAY.
(YOUR WAY) DIY STYLE. THIS IS PERFECT FOR MODULAR RACK MOUNTING.

-THE PHONO JACK SITUATION: YOU CAN SOLDER ALLELECTRONIC PART PHONO JACKS ON THE PCB AND USE THAT TO MOUNT AND SUPPORT/HANG THE PCB ON YOUR PANEL.THE JACKS GET PLACED ON THE WHITE GRAPHICS SIDE SO THAT THEY COVER THE WORD "HOT". THE JACKS ARE 0.9" INCHES APART FROM ONE ANOTHER (SPACING).

OR IF YOU ARE GOING TO DEAL WITH THE PHONO JACKS ANOTHER WAY USE THE RECTANGLE TAP POINTS ON THE LEFT OF THE PCB LABELED "LFO OUT", ETC. USE 2-PIN ALLELECTRONICS PART FOR A CLEAN QUICK DETACHABLE WIRE. ONE IS (HOT) THE OTHER IS GROUND.

-THE POWER SITUATION: EITHER SELF POWER, THERE FORE INSTALL ALL THE PARTS, OR POWER IT OFF YOUR POWERSUPPLY (MODULAR). IF YOU HAVE YOUR OWN POWERSUPPLY YOUR POWER TAP IS NEAR THE NOISE AREA. THEY ARE LABELED (+)(G)(-). THERE ARE 2 OF THESE 3 PIN LOCATIONS. ONE IS TO POWER JUMPER FOR ANOTHER PCB ON YOUR RACK. YOU COULD USE AN ALLELECTRONICS PART 3 PIN CONNECTION FOR A CLEAN DETACHABLE WIRE.
****IT IS NOT MANDATORY TO NOT HAVE THE REGULATORS,2200UF CAPS, AND AC DIODES NOT INSTALLED TO POWER OFF YOUR OWN POWERSUPPLY. SO IT IS OPTIONAL. IF THIS MAKES YOU UNCOMFORTABLE THEN JUST CLIP OFF THE REGULATORS IF INSTALLED ALREADY OR DON'T INSTALL THEM.



STEP 1: BASICALLY INSTALL ALL RESISTORS, TRANSISTORS, SOCKETS AND CAPACITORS. THE 2200UF IS OPTIONAL IF YOU ARE NOT GOING TO SELF POWER IT. THE REGULATORS AND AC DIODES ARE OPTIONAL ALSO IF NOT SELF POWERING. IGNORE THE ROUND CIRCLE OVER THE QUACK POT AREA. THAT IS A TRANSISTOR SOCKET LOCATION. YOU CANNOT INSTALL BOTH TRANSISTORS NEAR THE QUACK POT AREA(CHOOSE ONE).

STEP 2: INSTALL IC'S

STEP 3: INTALL (1) 10K TRIMMER AND CHOOSE A 100K-50K TRIMMER STYLE. (SO YOU SHOULD HAVE ONLY 2 TRIMMERS TOTAL)
STEP 4: FOR YOUR POTS USE THE 3 BEAR CLAW GRAPHICS TO GUIDE YOU WHERE TO TAP IN AND SOLDER WIRES. THE SAME GOES FOR THE SWITCHES(SOME ONLY HAVE 2 CLAWS,THEREFORE 2 WIRES ONLY).

THE LED'S ARE ALL OPTIONAL AND FOR DECORE ONLY. I GUESS THE LFO LED IS MOST IMPORTANT TO BE ON THE PANEL.
************************************************************************************************************************
************************************************************************************************************************
MY 2 CENTS OF TALK:

I HAVE BUILT AND PUT TOGETHER A WHOLE LOT OF THESE POLIVOKS PCB'S. SO I CAN CONFIDENTLY TELL YOU IT IS ERROR FREE IN DESIGN. HOWEVER, IF MY MANUFACTURER'S CNC MACHINE IS GOOFING UP ON CERTAIN BATCHES (VERY RARE) OR A WORKER DID SOME CHANGES I APPOLIGIZE AND I WOULD HAVE TO COMPLAIN BIG TIME WITH THEM. I PAY GOOD MONEY FOR PRO PCB SO THEY SHOULD ALL BE THE SAME. THIS PCB HAS GIVEN ME THE LEAST PROBLEMS THAT IS WHY I HAVE CHOOSE TO SELL IT DIY STYLE. I GET VERY HIGH PERCENTAGE RUNS OF NOTHING FAULTY OR STRANGE WHEN I BUILD LET'S SAY 10 POLIVOKS AIO FILTERS. THEY ALL SIMPLY REQUIRE OFFSET TRIM ADJUSTMENT. MY GOOF UP'S LATELY HAVE JUST BEEN NOT A GOOD SOLDER CONTACT (RESOLDER TO FIX).


TROUBLESHOOTING: IF THE POWER SITUATION IS FINE AND THE FILTER JUST DOES NOT WANT TO WORK, MOST LIKELY YOU INSTALLED THE TRANSITOR NEAR TL074, CUTOFF AND QUACK POTS WRONG OR IT NEVER WORKED. THAT IS THE BRIGDE THAT DETERMINES VCF. THIS IS ONLY ASSUMING ALL RESISTOR VALUES ARE CORRECT, NO OTHER SHORTS, YOU TRIED THE OFFSET ADJUST TRIMMER AND EVERYTHING ELSE WORKS. DURING PROTOTYPING I WOULD HAVE TO EXCHANGE THESE TRANSISTORS SOMETIMES THAT IS WHY I INSTALLED THE SOCKET OPTION (AVAILABLE AT ALLELECTRONICS). NOT THAT THE TRANSISTOR BLOWS ONCE IT WORKS, IT IS JUST HANDY WHEN PROTOTYPING.
STUDY DATASHEETS OF THE TRANSITORS USED TO MAKE SURE THE PINNING WAS CORRECT. LAST TIME I CHECKED THE GRAPHICS ARE CORRECT ON THE PCB FOR PART BC SERIES NPN TRANSISTORS. THE USA 2N3904 HAS DIFFERENT PINNING, MAYBE THAT IS YOUR MISTAKE. THIS GOES FOR THE LED'S ALSO, IF YOU ARE NOT GETTING LFO BLINKING MOST LIKELY IT IS THE TRANSISTOR RIGHT NEXT TO IT. THE FM LED ONLY BLINKS WITH HIGH CV ACTION/SIGNAL. THE INPUT LED ONLY GOES SOLID WITH HIGH GAIN. If the fm and input lights are some what lit that is probably because you used your own type NPN transitor--it is not a big deal and just for decore, you shouldn't worry about that. It does not determine why stuff is not working. The most important transistor is that one near Quack knob pot and TL074. I use 2N2222A and it always works. Perhaps PN2222A might work i haven't tested that out yet.

THE DESIGN IS VERY COMPACT AND IT IS POSSIBLE TO EASILY GET A SHORT GOING. YOU HAVE TO BE CAREFUL WITH GLOBS OF SOLDER. IF YOUR SOLDER TIP IS GOING DULL IT IS BETTER TO FILE IT DOWN WITH A GRINDER WHEEL OR BUY A NEW TIP.

I HAVE SPENT A GOOD AMOUNT OF HOURS TROUBLESHOOTING THE MOST STUPID SHORTS WHERE IT IS SOLDER JUST BARELY OVER FLOWING.
Posted by

Red Lantern
at 11:29 PM
No comments:

I have confirmed that the pcb is error free and ordered 10 for now. I will sell a few on ebay after January 11, 2009. They will go for about $30.00. It is pro cnc made and kinda bigger then most diy boards out there. If the demand goes up i can eventually order more to bring the price down.
Posted by

Red Lantern
at 11:22 PM
1 comment: